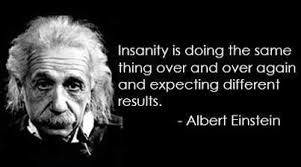 The American Dietary Guidelines have just come out and can be described as an epic fail. Minimal changes and an expectation that this will turn around the obesity epidemic we are all facing. I wonder how much the food industry were lobbying along the way?
Why get concerned with an American document? Unfortunately, many other countries take their lead from the USA.
The only change has been a recommendation to decrease sugar intake to 10% of calories. That's where the World Health organization were over a year ago and they recommended down to 5% or about 5 teaspoons for adults. So the USA didn't even get that one right.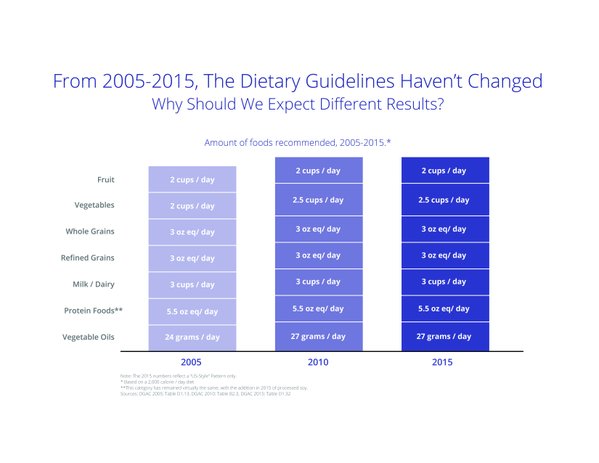 What do you think the American Sugar Association had to say about it? They were not happy.
"Everyone recognizes it is important for Americans to eat healthy diets within caloric needs but strong scientific evidence should support all dietary recommendations. Therefore, the Sugar Association is disappointed that despite a lack of scientific evidence, the 2015 Dietary Guidelines for Americans recommend an intake limit or target for "added sugars" of no more than 10 percent of daily calories. The Dietary Guidelines for Americans are too important not to get them right."
The American Academy of Nutrition and Dietetics (the equivalent of the Dietitians Association Australia) are now in a real dilemma. The new guidelines did not go as far as they recommended. In May of 2015 they submitted their opinion and were not being concerned by dietary cholesterol and saturated fat, and had their concerns with lowering salt intake. The latter 2 have been largely ignored in the new guidelines. What do they do now? Back to their corporate sponsors or do they lead the way and give the okay to greater amounts of saturated fat and salt.
What does it mean to me? Not much as I see those around me engaging in LCHF – Low sugar and Carbohydrate, Healthy Fat living and reaping the benefits.
The USA guidelines allow the bureaucracy to drag their heels but the population, you and me, are off and running without them.
http://health.gov/dietaryguidelines/2015/guidelines/
http://www.eatrightpro.org/resource/news-center/on-the-pulse-of-public-policy/from-the-hill/academy-submits-2015-dga-recommendations?utm_content=bufferbe54b&utm_medium=social&utm_source=twitter.com&utm_campaign=buffer
http://www.eatrightpro.org/resource/news-center/on-the-pulse-of-public-policy/regulatory-comments/dgac-scientific-report
http://www.prnewswire.com/news-releases/2015-us-dietary-guidelines-for-americans-advisory-committee-report-makes-recommendations-that-ignore-scientific-evidence-300038842.html
http://www.sugar.org/2015-dietary-guidelines-for-americans-recommendation-for-added-sugars-intake-agenda-based-not-science-based/