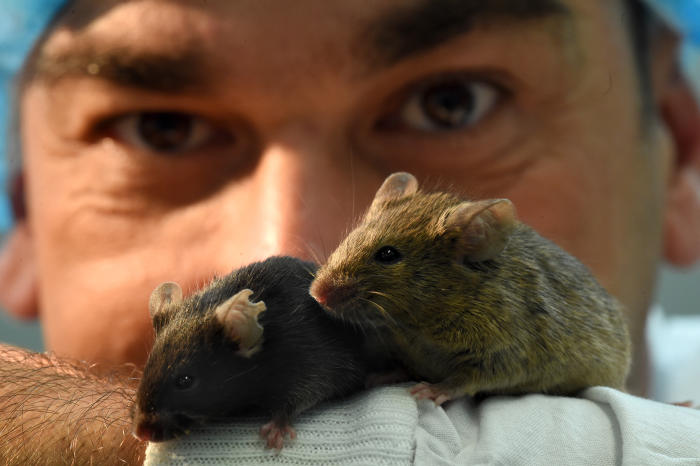 Nonsense was my reply on the ABC news tonight.
Unfortunately, this sort of research gets into mainstream news and hammers something which is showing benefits for real people – not mice.
I have been able to reply to this University of Melbourne research on tonight's ABC news report. We'll see how much I have been edited in or out. At least the opportunity to respond was given.
The study looked at the effect of an extreme diet on 9 obese mice and then has the gumption to extrapolate that to say Paleo makes you fat. The word Paleo NEVER appears in the article.
They took 18 mice that are genetically predisposed to obesity and 9 of them were fed a chow mix that was 6% straight sugar, 13% protein and 81% fat. I repeat, 81% fat in a chow form. That is about as far away as you can get from eating real food which is naturally lower in refined sugar and carbohydrate.
Where are the green leafy vegetables, pasture fed meats and healthy fats from nuts, cheese and avocado?
The weight changes were not even documented in the paper. They only referred to percentage changes in 'Gonadal Fat Pads'. The paper makes no mention of a 15% increase in body weight for these mice. The Melbourne University press release is a sham. Either that or I am reading the wrong article.
I am all for recommending a lower carbohydrate and higher healthy fat lifestyle and will continue to do so. I do not advocate an extreme diet that is anywhere near the percentages and composition thrown out by this study.
Low Carb and Healthy Fat living does work in diabetes management. Every person I know who adopts it has an improvement in their blood glucose control, a reduction in their medications, less hypoglycaemic events and most are losing weight.
This scaremongering by the press release from Melbourne University is just nonsense.
Here's 12 good points of evidence to consider low carb as the first approach to treating type 2 diabetes and as the most effective adjunct to pharmacology in type 1.
1. Hyperglycemia is the most salient feature of diabetes. Dietary carbohydrate restriction has the greatest effect on decreasing blood glucose levels.
2. During the epidemics of obesity and type 2 diabetes, caloric increases have been due almost entirely to increased carbohydrate.
3. Benefits of dietary carbohydrate restriction do not require weight loss.
4. Although weight loss is not required for benefit, no dietary intervention is better than carbohydrate restriction for weight loss.
5. Adherence to low-carbohydrate diets in people with type 2 diabetes is at least as good as adherence to any other dietary interventions and is frequently significantly better.
6. Replacement of carbohydrate with protein is generally beneficial.
7. Dietary total and saturated fat do not correlate with risk of CVD.
8. Plasma saturated fatty acids are controlled by dietary carbohydrate more than by dietary lipids.
9. The best predictor of microvascular and, to a lesser extent, macro-vascular complications in patients with type 2 diabetes, is glycemic control (HbA1c).
10. Dietary carbohydrate restriction is the most effective method (other than starvation) of reducing serum triglycerides and increasing high-density lipoprotein (HDL).
11. Patients with type 2 diabetes on carbohydrate-restricted diets reduce and frequently eliminate medication. People with type 1 usually require lower insulin.
12. Intensive glucose lowering by dietary carbohydrate restriction has no side effects comparable to the effects of intensive pharmacologic treatment.
http://www.sciencedirect.com/…/article/pii/S0899900714003323
http://www.nature.com/nutd/journal/…/n2/full/nutd20162a.html
https://pursuit.unimelb.edu.au/arti…/paleo-diets-weight-gain