Ideas are on the way
Please add your own ideas and recipes by going to Contribute to NoFructose.com
SMOKED SALMON & HERB RISOTTO – serves 2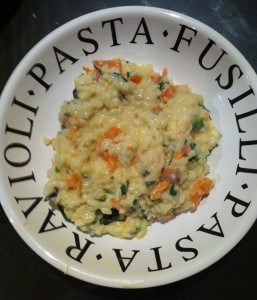 Thank you to Antonia Mitchell from http://fructosefreerecipes.blog.com
Preparation Time – 15-20 minutes
Cooking Time – 25 minutes
Ingredients
15g butter
2 tsp asafoetida
750ml fructose free stock
250ml water
200g risotto rice (carnaroli or arborio)
150ml dry white wine
4 spring onions, green part only, chopped
Freshly ground pepper
3 heaped tbsp of cream cheese (light is fine)
2 tbsp freshly grated parmesan cheese
120g smoked salmon. Rinse it first, to remove any salt, and then cut into bite sized cubes or strips
2 tbsp fresh chives, finely chopped
1 tbsp fresh basil, finely chopped
1/4 lemon (if needed)
Equipment
1 large saucepan
1 medium saucepan
Method
Make up the fructose free stock in the medium pan, add the water and bring it to simmering point, leave it on simmer for the duration of this recipe.
Melt the butter, over a medium heat, in the large saucepan and add the asafoetida.  Cook until golden in colour and slightly less pungent.  This will take circa 1-2 minutes.
Add the rice to the large pan, stir to coat the rice in the butter.
Add the wine and cook, uncovered for 2 minutes.
Add stock to the rice, until it just covers it.  Leave it until the rice absorbs most of this stock and then repeat the process by adding more stock until it just covers it again, stirring occasionally.  Repeat this process until the rice is cooked through but still has a little bit of bite.  Depending on the rice you use this will take about 20 minutes.
Add the spring onions, stir and cook for another minute.
Season with the pepper and add the cream cheese. Stir until the cream cheese is melted into the risotto.  If you have made your own stock and it is low in salt then you may want to add salt to taste at this point.  If you have bought commercial stock then trust me, it will be salty enough!
Add the parmesan, smoked salmon and herbs and stir again until fully combined.
Take it off the heat and taste it. If you think it needs a little bit more tartness then add the lemon a little bit at a time until you get the flavour you want.  Serve with a fresh salad
If you want to serve this dish for a dinner party then you can make it look a little bit smarter by adding mustard cress and quail eggs.  If you are doing this then put a little oil in a frying pan and very carefully fry some quail eggs for a couple of minutes or until cooked.  Put the risotto into the dishes, scatter the mustard cress on top and lay a couple of friend quail eggs on top.
———————————————————————-
SALT BAKED POTATO with GUACAMOLE -serves 4
Thank you to Antonia Mitchell from http://fructosefreerecipes.blog.com
Some people with Fructose Malabsorption have an issue with avocado (due to its sorbitol content).  This recipe only uses 1/4 avocado per person, which is the maximum recommended amount if sorbitol is an issue.  If it is not a problem for you then you can add up to 4 avocados to this recipe! However if it is a problem for you then this is a great recipe to make a little avocado go a long way.  It has been adapted from the excellent Delicious Magazine.
Preparation time – 30 minutes
Cooking time – 1 hour and 10 minutes
Ingredients
4-8 Baking Potatoes (depending on size)
110g sea salt flakes
A dollop or two of unsalted butter (use margarine to make it lactose free)
4 spring onions, green part only, finely chopped
Guacamole
1 spring onion, green part only, finely chopped
3 small ripe tomatoes
1 handful of finely chopped mint
1 ripe avocado (if avocado is not a problem for you then you can use up to 4 avocados but make sure you use 2 spring onions in that case)
1-2 small red or green chilies, seeds removed and finely chopped
2-3 tbs lime juice (about 1 lime)
Tabasco sauce, to taste
Utensils
Method
Preheat the oven to 200°C
Scrub the potatoes clean and shake off the water.  Do not dry them as they need to be damp.  Prick each potato a few times with a skewer (or a knife if you don't have a skewer).
Pour the salt into a shallow bowl ad roll each potato in it, until it is finely coated in the salt.  It won't all stick but just do what you can.  Place the potatoes in a shallow roasting tin and bake for 1 hour or until they are just tender when pierced.
Whilst the potatoes are cooking prepare the guacamole.  Mix the spring onion, tomato, mint and chilli together and set aside.
Once the potatoes are ready take them out of the oven.  Using a tea towel to protect your hand (they get very hot) slice a lid off of each one and carefully scoop out the flesh into a bowl, leaving a shell of circa 6mm thick.
Mash the potato flesh in the bowl with the butter and stir in the spring onion.  Cover the bowl loosely with foil to keep it warm.
Finish off the guacamole by scooping the flesh of the avocado into a bowl and mashing it.  Stir in the tomato and spring onion mixture, along with lime juice, a dash of tabasco and a little bit of salt.  Taste and adjust the flavours as needed.
Stir 1/4 of the guacamole into the potato mixture and mix well, then spoon the potato mixture back into the shells of the potato, up to the top.  Return the potatoes to the oven, keeping the lids separate, for 10 minutes so that they heat through.
Remove the potatoes for the oven, spoon the rest of the guacamole mixture onto the top and replace the lid.  Garnish with a sprig of mint and serve.
———————————————————————-
HALLOUMI STUFFED PEPPERS – serves 2
Thank you to Antonia Mitchell from http://fructosefreerecipes.blog.com
I love quick and easy meals that are high in protein and this dish is just that.  It is adapted from this excellent recipe by BBC Good Food.
Ingredients
4 large red peppers
250g jar sundried tomatoes, ideally pre-sliced (check ingredients for hidden nasties)
150g quinoa
300ml fructose friendly stock (cold)
250g halloumi cheese, cut into cubes
2 tsp chopped fresh parsley
2 spring onions, green part only, thinly sliced
Utensils
Saucepan with a tight fitting lid
Baking tray
Method
Preheat the oven to 180ºC
Cut the peppers in half through the stalks (leaving the stalks in tact) and scoop out the seeds
Put the peppers in one layer on a baking sheet
Drain the sundried tomatoes, reserving the oil, from the jar – drizzle one tablespoon of the oil over the peppers, then sprinkle with salt and pepper
Bake the peppers for 20-25 minutes, until the peppers are just tender
Rinse the quinoa in water and put it in the saucepan with the stock.  Bring to the boil (uncovered), then simmer (covered) for 15 minutes and leave to stand (covered) for 5 mintues.  Then fluff up with a fork.
Slice the sundried tomatoes up (if you have not managed to get pre sliced ones) and then add them, the halloumi, spring onions and parsley to the quinoa mix, season well and mix to combine.
Spoon the quinoa mix into the pepper halves, until each pepper half is full.
Return the pepper halves to the oven for 15 minutes and bake until the cheese is golden.
Remove from the oven and serve with a mixed salad and some bread.
———————————————————————-
BARRAMUNDI TACOS with QUINOA & SALSA
Thank you to Antonia Mitchell from http://fructosefreerecipes.blog.com
This is a great Delicious magazine recipe.  It is very fresh, easy to make and just perfect for Summer.  It contains corn, which depending on your tolerance you should not have more than 1/2 a corn per person.  This recipe is well under that but just be aware of this potential hazard and don't put it with other questionable foods, to avoid overloading.
Ingredients
600g skinless, pin boned barrumundi fillets (or similar white fish), cut into 2cm wide strips
2tbs extra virgin olive oil
3 limes, plus additional wedges to serve
3cm piece root ginger, peeled and thinly grated
2 corn cobs, kernels sliced
250g cherry tomatoes, quartered
6 spring onions, green part only, thinly sliced
2 long green chillies, seeds removed, finely chopped
1 handful roughly chopped mint leaves, plus extra to use as a garnish
1 handful roughly chopped coriander leaves, plus extra to use as a garnish
200ml sour cream (if you are on a diet then use a plain yoghurt)
100g black or white quinoa, made up according to package instructions
18 large taco shells
Equipment
Large frying pan
Small bowl
Medium bowl
Large bowl
Grater
Sieve
Method
Place the fish in the medium bowl and add 1tbs olive oil, finely grated zest of 1 lime, juice of 2 limes and the ginger.  Season well with salt and pepper, then cover and place in the fridge for 1 hour to marinate.
Place the corn, cherry tomatoes, spring onions and green chillies in the large bowl.  Squeeze in 1/2 lime, mix and then stand for 30 minutes so the flavours can develop.
Finely chop 1/3 of your coriander and mint and add this to the salsa.  Season well with salt and pepper and stir again to combine.
Combine the sour cream and juice from the remaining half a lime, in the small bowl and mix until fully combined and of an even consistency.
Cook the taco shells according to package instructions
Heat the remaining 1tbs olive oil in the frying pan over a medium heat.  Toss the fish with most of the remaining coriander and mint, then drain well in the sieve.  Place fish in the frying pan and cook, turning, for 1-2 minutes or until just cooked.
Serve by placing a bowl with the fish in it, a bowl with the salsa in it, one with the quinoa, a bowl with the sour cream and a plate of the taco shells onto the table and letting people help themselves.  Or if you are feeling super smart you can make it up for them by putting some of the sour cream into the taco shell, then adding the fish, quinoa and salsa. Garnish with some left over herb leaves and lime wedges.
———————————————————————-
Please add your own ideas and recipes by going to Contribute to NoFructose.com