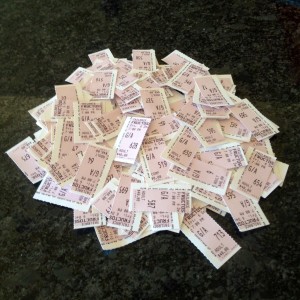 Over 300 interested people came along last night to the Tailrace Centre to hear the 'Fructose and Fat – Fact or Fashion' talk.
That is a huge response in our local Tasmanian community and shows that there is a growing interest in this topic.
I heard some great moving stories in the Q & A session and if anyone wonders why I continue on this pathway, then it is those stories that continue to propel me.
Cutting way back on the Fructose and Refined Carbohydrates and tossing the Polyunsaturated Oils is not just about losing weight, it is making very real health benefits for people and families.
I do sense the frustration from some of you who are doing the NoFructose concept, reaping the benefits and then finding that the immediate family are still not with you. Just continue on and set the example. That's what I did. That is what I am doing at a community level and the progress made in the last 2 years is astounding.
I understand that frustration only too well.
I offered some complimentary passes to some Public Health officials and I believe that representatives from the Food Services and Nutrition teams at the Launceston General Hospital came along last night. Hopefully the evening's information will create some discussion in their departments.
The same was offered to Michelle O'Byrne, the 'current' Minister of Health. She did not attend. This was her response last week but 'unfortunately' did not receive any further 'attention' beyond that. Communication is not a strong point.
"Minister Michelle O'Byrne has asked me to acknowledge and thank you for your email below and attached invitation. Please note that it is currently receiving attention."
Thank you to everyone who did attend and listened.
Communicating this information is the way forward.
Thank you to my family and friends that support me. I need your help and it is and will make a difference.
We are a group of 'Committed Sardines' and I sense a change in direction is not far away.
http://www.nofructose.com/2013/12/06/committed-sardines-and-fructose-and-blue-whales-2/