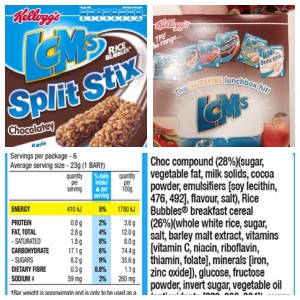 Kieron Rooney explores some of the food recommendations being used around the supermarket in this article on 'The Drum'.
The red, amber and green light labelling is being manipulated by the food industry in his review.
I grabbed this Kellogg's packet off the shelf yesterday. LCM's are being promoted as a healthy lunch box option. Chocolate flavoured, laden with sugar, refined carbohydrate and vegetable oil. All of the different types were the same – a huge sugar and carb load.
Kellogg's use the term 'Sure Fire Lunchbox Hit' – to me that's a chemical hit.
Add in the LCM promotional video and parents and children cannot help but fall 'in love' with them.
https://www.youtube.com/watch?v=ZXTZlHokjCQ
We are looking at advertising on television to children. Time to look at advertising in the supermarket and how it is influencing our choices.
http://www.abc.net.au/news/2014-01-27/rooney-school-junk-food/5220782