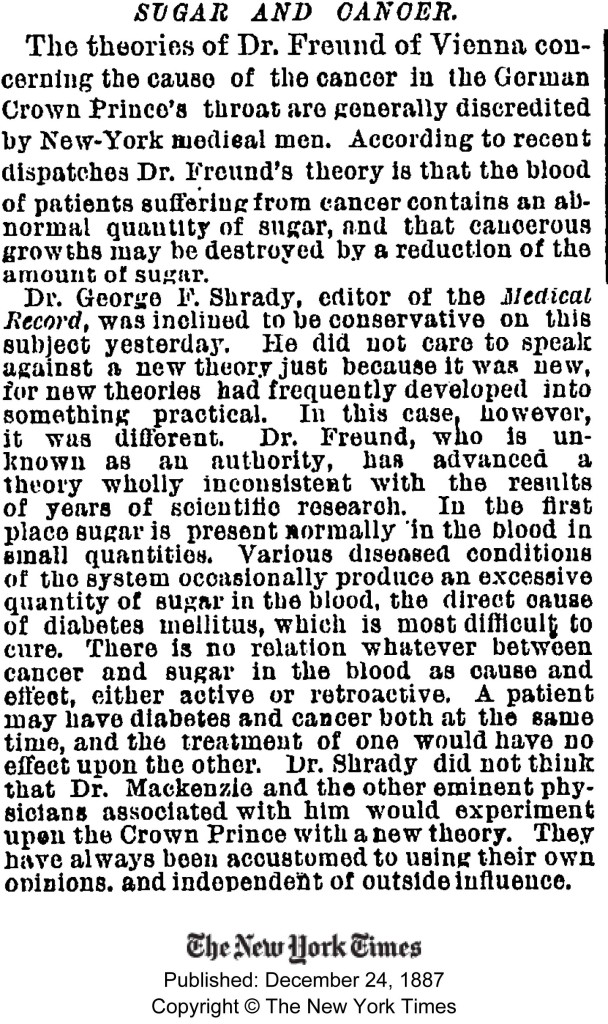 Is there a way to exploit the metabolic quirk of cancer?
Peter Attia has summarised a topic dear to my heart. It is how I have stumbled and tumbled down the No Fructose pathway.
Glucose is selectively taken up by many cancer cells. By starving these cells from glucose and insulin spikes in the bloodstream then it makes sense that it may be a path to managing and at least preventing cancer.
It is why I have drifted from a No Fructose diet to being into the very low carbohydrate and higher fat diet. I am 'starving' the troublesome cells in my body.
Do yourself a favour and read his blog but also enlarging the photo and reading this 1887 article in the New York Times.
"Dr Freunds theory is that the blood of patients suffering from cancer contains an abnormal quantity of sugar, and that cancerous growths may be destroyed by a reduction of the amount of sugar."
We are reinventing the wheel and about time!
http://eatingacademy.com/nutrition/way-exploit-metabolic-quirk-cancer
I